Innovating Fast: Cargolux Airlines Talks @ Pharma Freight Now and Future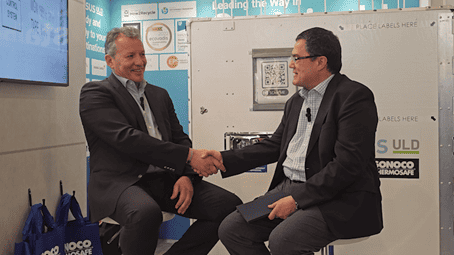 So much happened in supply chains during the pandemic and stakeholders are still reeling from the outcomes – all in a positive way! In this Pharma Freight video, Sonoco ThermoSafe's Bourji Mourad talks with Stavros Evangelakakis, Head of Global Healthcare at Cargolux Airlines during the LogiPharma conference in Lyon France. When push came to shove – speed, agility and new solutions were created. By sheer need during the pandemic, better collaborations were formed and learned, as well as how to accommodate life science shipments quickly and with quality in mind.
As a cargo-only airline, Cargolux has unique approaches to developing their services to meet the growing market of pharmaceutical shipments. Stavros talks about what's he hearing from the market in terms of demands and requirements of specialized temperature control healthcare shipments.
Stavros says "the market is developing so fast, it's hard to predict exactly what supply chains will look like in 3+ years. Today there are more choices for active/passive containers, along with a greater demand for -80C and minus temperatures. Sustainability of course is top of mind, with 2030 being the deadline to have sustainable packaging in place.
With a growing population and people living longer, the need to deliver healthcare around the globe will only increase. Stavros talks about the need to ship faster and move freight quicker, by finding new solutions through collaboration.
About Stavros Evangelakakis
Stavros Evangelakakis (Global Product Manager Healthcare and Perishables) began working for Cargolux in 1989, working in various positions including reservations, sales, marketing, and corporate marketing, before returning to sales. He is heavily involved in promoting the Cargolux name and transporting temperature-sensitive commodities together with the specially set up internal team "Keep Cool". " Stavros' goal is to promote awareness of how to transport temperature-sensitive goods in the supply chain, particularly in the Pharma sector of the air cargo supply chain.
About Bourji Mourad
Bourji Mourad, Director of Global Logistics & Partner Management at Sonoco ThermoSafe has spent the last 20+ years in the air cargo temperature management and cold chain logistics sector for safer transportation of time and temperature sensitive pharmaceutical products. Bourji is building a global network of stations for handling and repair of Pegasus Unit Load Devices. Bourji is also creating partnerships with selective Airlines and Freight Forwarders at corporate level making it possible for mutual customers to gain access to the fleet of containers offered by Sonoco under a rental program for shipping Pharmaceutical & Life Sciences products. Prior to joining Sonoco, Bourji was with Envirotainer for 18 years, as Global Head of Partner Management & Compliance, and in the Freight Forwarding industry prior to that. Bourji is based in the United Kingdom. He enjoys innovation, coaching staff, business development and discovering customer true needs.
Subscribe to The Cold Chain Exchange community with your industry peers.