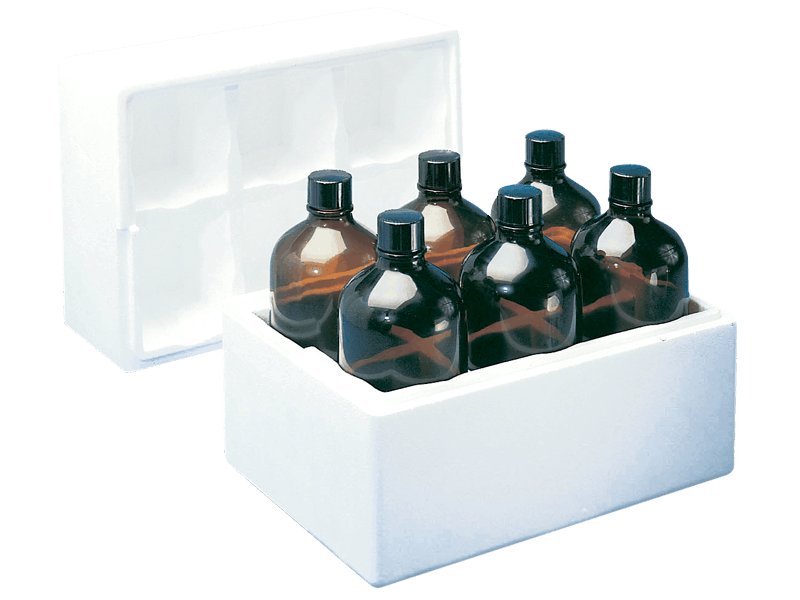 ShipSafe® Bottle Shippers are lightweight, economical EPS foam shippers for reagents, pharmaceuticals, biological preparations and other non-hazardous goods.
Laboratory tested and accepted for use by UPS, Parcel Post, and common carriers
Two-piece molded construction with interlocking edges and molded-in tape grooves
No outer shipping carton required
Pressure-sensitive labels adhere directly to foam shipper
9 large models…accommodate one to six bottles from 1 pint to 1 gallon in size
9 small models…accommodate one to twenty vials/bottles with capacities from 5 ml to 8 ounces
Reusable and recyclable
Flexible foam bottle jackets available separately ShipSafe® flexible foam bottle jackets flexible foam sleeves cushion and protect vials and bottles during shipping and handling. 4 models…accommodate vials and bottles from 1 to 7 inches in diameter. May be used with standard shipping cartons and/or with insulated shippers for thermal protection. Diameter is at widest point; height includes cap.
SEE PRODUCTS
Bottle Shippers Products
Part
Number
Solution
Description
Quantity
External
Dimensions (in)
Insulation
Manufacturing
Location
L
W
H
338UPS
\Cider-Jug\ gallon bottle shipper.
8/case
10.00
10.00
14.63
EPS
USA
347UPS
6 x 1 quart bottle shipper.
12/case
13.50
9.25
10.00
EPS
USA
350
4 x 2.5 liter/80 oz. bottle shipper.
EPS
USA
358UPS
1 pint Boston Round bottle shipper.
60/case
4.75
4.75
10.00
EPS
USA
359UPS
1 x 2.5 liter/80 oz. Boston Round bottle shipper.
18/case
7.13
7.13
14.50
EPS
USA
361UPS
1 pint Boston Round bottle shipper.
64/case
8.56
14.50
14.50
EPS
USA
368
Contact lens / 5-10 ml vial mailer.
EPS
USA
393UPS
1 quart Boston Round bottle shipper.
45/case
10.50
5.50
5.50
EPS
USA
496
Flexible foam jacket. Holds 32 oz./1-liter bottle with diameters 3-1/2″ – 4-1/2″.
18/case
Flexible Foam
USA
497
Flexible foam jacket. Holds gallon/4-liter bottle with diameters 5-1/2″ – 7″.
12/case
Flexible Foam
USA
Questions? We're here to help. Chat now.