Conversation with Tom Scalone, incoming HPCLC President 2023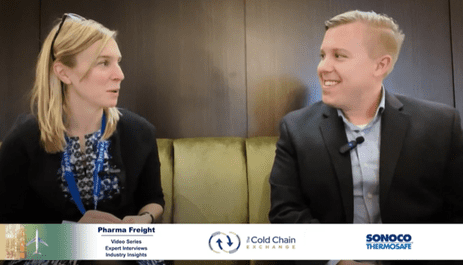 During the Fall HPCLC conference in Chicago, Sonoco ThermoSafe had a chance to sit down with Tom Scalone, incoming HPCLC President. We talked about several of the conference topics, including Network 4.0 and what that means to pharmaceutical shippers as they move through their journey – not a sprint – of supply chain digital transformation. Many companies want to transform quickly yet not sure where to start. Tom talked about how the HPCLC conference provides perspectives from various companies, sharing ideas how to tackle large complex initiatives like digitalization. The Fall HPCLC conference was focused on technology and innovation. The Spring 2023 conference will focus on regulations and pricing reform.
For more information on HPCLC please visit Health & Personal Care Logistics Conference | HPCLC – Official site of HPCLC (hpclcnet.org)
Part of our conversation with Tom mentioned new OSRA regulations. For your reference, Ocean Shipping Reform Act of 2022 (OSRA) Implementation – FMC – Federal Maritime Commission
Subscribe to The Cold Chain Exchange community with your industry peers.