Right Solution, Right Scenario: Conversation with Richard Peck, Temperature Controlled Logistics Director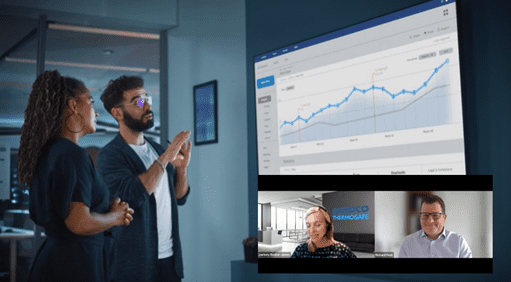 With the urgency of the pandemic, the traditional methods of lane and shipping system qualification went out the door. The AstraZeneca COVID 19 vaccine needed to be safeguarded through an unknown supply chain with multiple hand offs in the COVAX program. Thinking outside the box, AstraZeneca's vaccine supply chain roll out was expedited by using simulation software to ensure packaging systems was properly qualified and compliant, most importantly protecting the COVID 19 vaccine product.
Richard describes how they ran dozens of different time and temperature profiles to understand performance capabilities of multiple shipping systems and how they would perform within the supply chain. We further discuss how collaboration of software suppliers and manufacturing suppliers have advanced accuracy of software, to Richard's estimations 90% accurate.  He explains how simulation won't replace chamber testing, but why not increase the use of simulation testing?
We also talked about the challenging decisions in the global supply chains yet today. Despite cost, sometime decisions have to be taken for what's best for the patient or customers.
Richard believes industry needs to press on with sustainability, and that manufacturers must choose the right shipping solution for the right scenario. Let's embrace new technology, including passive systems and analytics tools. Leaving us with something to think about – how can we use the technology and data available today to make quicker decisions?
About Richard Peck
Richard Peck has worked in the Pharmaceutical industry for over 20 years and specifically within the temperature-controlled supply-chain sector for over 15 years. He started this journey with Wyeth becoming a technical and qualification SME in all things Cold-Chain. Following this time at Wyeth, Richard spent almost 10 years on the supplier side of the sector in senior roles in globally recognised temperature-controlled packaging and monitoring solution providers. Having been luckily enough to gain experience from different sides of the industry, Richard enjoys sharing this knowledge with others by facilitating many training courses in packaging, transportation, storage and good distribution practices. Richard was previously the Global Head of the Process Controlled Transportation Centre of Excellence and an LT member of the Global Logistics Function at AstraZeneca, where he was responsible for implementing processes and technologies to ensure product integrity throughout AZ's supply chain network and ultimately to their patients. Richard is currently the International Logistics Director for Clover Pharmaceuticals.
Subscribe to The Cold Chain Exchange community with your industry peers.